Discover more from Mother Tongue Cooking Club
A weekly newsletter to make you a better home cook.
Over 7,000 subscribers
Hey, everyone!
Today's post is an answer to the question I probably get most often from people about stocking their kitchen— which knives should I buy?
As you might imagine, I have strong opinions on the matter.
I often talk about kitchen minimalism, and that same philosophy applies here. I believe there are only three knives that you really need— a good chef's knife, a paring knife, and a serrated (bread) knife. Everything that you need to do in the kitchen can be accomplished with just those three. There are a few more specialty knives you might pick up over the years if you get into specific things like butchery or breaking down whole fish, but most people will be entirely covered with a three-knife collection.
While paring knives and serrated knives are important, there are plenty of great options that won't break your budget. If you're looking to up your knife game, I recommend starting with the purchase of the best-quality chef's knife you can afford. That will be the knife you use the most, and it's worth buying a good one and learning how to take care of it.
Admittedly I own more than three knives— you can see my entire collection in the first photo below. But I've been traveling a bunch lately, and I really only bring three of them with me— you can see those in the second photo. Those are the three knives I use the most, and they serve every kitchen need I have.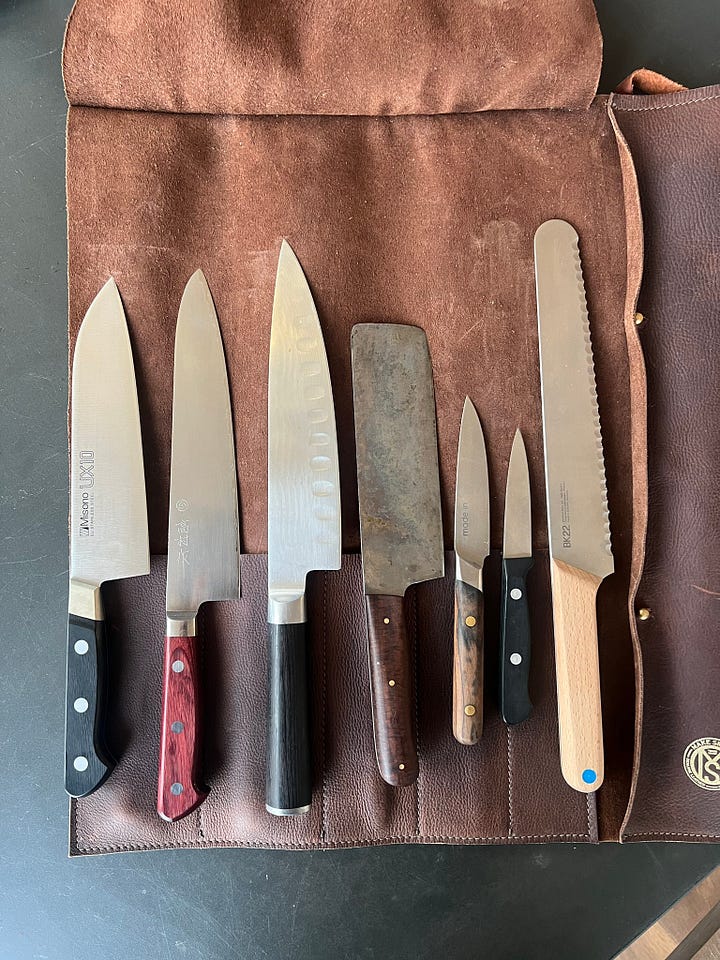 Knife Types
There are a ton of different knife brands, companies, manufacturers, and styles to consider. I'll share the knives that I personally like the most, but it's worth going to a knife store (Williams Sonoma and Sur La Table have good selections) to get hands-on with some different knives before you buy.
Broadly speaking, I categorize knives into two major types— German-style knives and Japanese-style knives. Japanese knives are lighter, more balanced, and arguably a bit more fragile. German knives are sturdier, heavier, and a bit more durable. I personally prefer Japanese knives, but I know many people who prefer German. My recommendation is to go to a knife store and feel them out. Even if you don't actually make a purchase there, you'll get a sense for the knife type, style, handle design, and blade shape that feels best for you.
Knife Sets
I almost always tell people not to purchase knife sets. In the vast majority of cases, knife sets are designed to sell you a bundle of overpriced knives, most of which you don't actually need.
However, there are a few exceptions to the rule. Below are a few knife sets that include just the essentials and are made by reputable companies. If you're looking to buy all your knives at once, I'd go with one of these options.
I've used these knives myself and I really like them. They're Japanese-style knives that are light, balanced, and perform really well.

This set includes 4 knives, but it's a very solid collection. I've owned and used Made In knives quite a bit, and they're very good. They're made in France, but they have the weight and sturdiness of German-style knives.

I haven't used these myself, but I've heard good things. They've clearly identified the right knives to include, they're made with Japanese steel, and they seem to have a nice combination of blade and handle design.
Knife Recommendations
Chef's Knives
As I mentioned before, I think that a chef's knife is the single most important tool in your kitchen, and it's worth buying the best-quality one you can afford. You can buy some really good chef's knives in the $150-250 range, as well as some very solid ones in the $50-100 range. Above $250, you're mostly paying for small details, design, and rarity. All the chef's knives I own cost less than $250, and they're all fantastic.
I've owned and used a lot of different chef's knives. There are a ton of great options out there, and it ultimately comes down to personal preference and how it feels in your hand.
My Personal Favorite Chef's Knife
I can't say enough good things about this knife. The weight, feel, balance, and santoku shape are all amazing. It's the knife I reach for most often in my kitchen, and I think you get a ton of value for the price point.
Other Chef's Knives I Love
Budget Options
Paring / Utility Knives
Some people argue that paring knives aren't strictly essential, but I think they're worth having. They're great for any kind of knifework that requires a bit more dexterity and precision. I end up using mine all the time.
I'm a little bit less picky about brands and quality for paring knives— there are plenty of options that aren't too expensive and will get the job done.
My Favorite Paring Knives
Serrated Knives
You'll use your serrated knife for cutting bread, slicing tomatoes, and the occasional other random task that calls for it. I recommend getting a sturdy serrated knife (some are quite flimsy).
Quality does matter somewhat here, but it's not something you need to break the bank for. I've got a Victorinox bread knife that's been reliable for years.
My Favorite Serrated Knives
Budget Options
Knife Care
Honing Steel
Contrary to popular belief, a honing steel doesn't actually sharpen your knives— it just helps keep them sharper for longer.
Honing steels are easy to use, and a few passes before you use your knife will make a big difference in the longevity of its edge. Here's a quick video showing how to use one from knifemaking legend Bob Kramer.
Whetstones
If you want to take your sharpening into your own hands, I recommend buying a pair of whetstones. Whetstones are more gentle on knife blades than other sharpening devices that are sold, and they give you much more control. Most sharpening devices are rough on your blades and will actually degrade the quality of your knives over time.
Whetstones are a sustainable, proper option, but they require a little investment of time into the learning process. If you do go this route, spend 30 minutes watching this video to get the knowledge and technique necessary to do it right.
Professional Sharpening
The best option for most people is to simply take your knives to get professionally sharpened. I recommend doing this at least every six months or so. Even though I own whetstones and sharpen my knives at home, I sometimes get lazy and still take them to a professional sharpener who I know will do an incredible job.
Just Google knife sharpening services in your area— most cities have them. If you can't find a service locally, KnifeAid does knife sharpening by mail, and some brands (like Shun) will also offer that option.
Basic Knife Skills
Below is a short video I put together for students in my 80/20 Cooking course about basic knife skills. It's a quick watch, but it goes over some important fundamentals— how to properly hold a knife, how to protect your fingers when cutting, and more. Check it out if you're interested.
As always, feel free to reach out or leave a comment if you have any specific questions!
Myles
---
Thanks For Reading!
If you liked this newsletter but you're not subscribed, you can do that below.
I also run a cohort-based online cooking school called 80/20 Cooking. It's a 4-week program designed to help you master the fundamentals of cooking so that you can easily and intuitively cook without recipes. If you're interested in getting notified about our upcoming cohort, you can sign up for updates here!
Finally, you can find me on Twitter and Instagram for more food and cooking content.