December Round Up
The December Round Up
Hey, everyone! Happy almost New Year.
It's been a wild year, and I'm grateful to everyone who is subscribed to this newsletter. I love sharing my love for food and cooking here, and I'm planning to continue to do so (hopefully in an even bigger way) this coming year.
If you've got any feedback or ideas, feel free to shoot me an email! I'd love to hear them.
Myles
Constraint Breeds Creativity
Lately I've been thinking a lot about creativity in cooking, and one thing I keep coming back to is the idea of constraint.
Some of my favorite meals that I've ever cooked were done in Airbnb kitchens, at camp sites, and in other places where I didn't have access to my usual equipment and ingredients.
For most of history, the way that humans cooked was primarily dictated by constraint— we made the most of what was available locally and in season. Nowadays, we have modern grocery stores that give us access to practically any food we want, from anywhere in the world, at any time of the year. While this is an incredible blessing, I've found that the best food often happens when we voluntarily subject ourselves to those same constraints that used to govern how we ate. When we limit ourselves to what's local and in season, we're not only getting the best products, but we're forced to be creative in how we use them. And this often ends up producing magic we wouldn't have discovered otherwise.
My Favorite Meals of the Year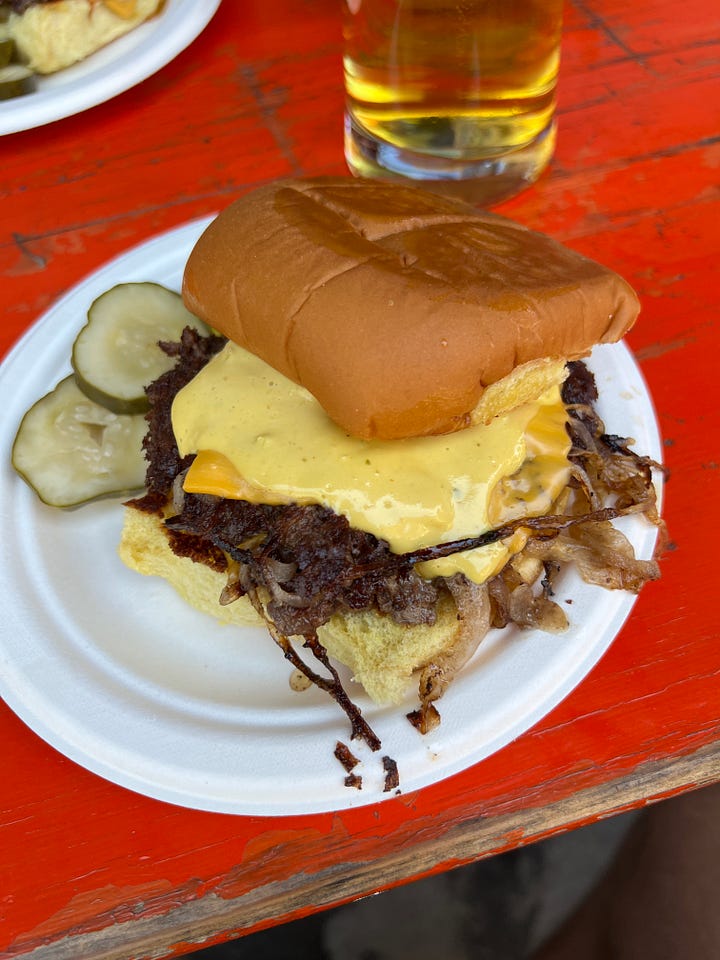 I had a lot of good meals this year, but a few stuck out above the rest. If you're in any of these cities and have a chance to check these places out, please do.
Heirloom and Landrace Grains
One of my cooking goals for this year was to learn about sourdough and bread making. In studying the work of people like Chad Robertson and Chris Bianco, I really came to appreciate the importance of specific wheat varietals for flavor. Standard all-purpose flour works great when you're just trying to master the techniques of bread-making, but eventually you realize that you can unlock incredible new flavors and textures when you work with varietals of grains that have been specifically bred for their culinary uses. I knew that from working with corn at Masienda, but it's been fascinating to see just how deep the rabbit hole goes in the wheat world.
"Heirloom" is a term that's often thrown around, but I learned from Glenn Roberts of Anson Mills that "landrace" is the term he prefers. It's defined as follows:
a local variety of a species of plant or animal that has distinctive characteristics arising from development and adaptation over time to conditions of a localized geographic region and that typically displays greater genetic diversity than types subjected to formal breeding practices
Some of my favorite food experiments this year happened when I started seeking out and using these landrace varietals of grains. Sourdough flour tortillas with Sonora wheat, pizza dough with farina di pizzaiolo, cornbread with Jimmy Red cornmeal, corn tortillas with blue cónico, and a bunch more.
Check these out if you have a chance. Not only will you help support the companies that are keeping these varietals alive, but you'll also experience some of the best flavors available.
Olio Nuovo
If you love olive oil as much as I do, then now is the time to purchase some olio nuovo.
Olio nuovo is the first-press olive oil of the season, made with fresh-picked olives immediately after harvest. This means that you can only get it around harvest time, which is usually happens around October-December.
Olio nuovo is a fresh product, and it's meant to be used quickly. Pick some up and use it within a couple months. It's some of the most unique olive oil you'll ever try.
I got some from Wild Groves this year. I've also heard great things about Fandango, and Wonder Valley has always been a favorite of mine.
Next-Generation Induction Stoves
I'm a gas stove maximalist, but I know that some states have regulations prohibiting gas stoves in new builds. I just read about this new company that's making next-generation induction cooktops, and I'm intrigued. They're called Impulse Labs, and they claim to have solved some of the major issues with induction stoves— they can plug into a regular power source, they don't make that annoying buzzing sound, and they're incredibly performant (think boiling water in 40 seconds). I'll always prefer gas, but if circumstances demand induction, this company would be the first manufacturer I'd check out.
---
Mother Tongue Cooking Club is a reader-supported publication. To receive new posts and support my work, consider becoming a free or paid subscriber.