Discover more from Mother Tongue Cooking Club
A weekly newsletter to make you a better home cook.
Over 7,000 subscribers
Hey, everyone!
Today's newsletter is half technique, half recipe.
I'm going to break down for you the technique I use to get sweet potatoes that are beautifully crispy on the outside and perfectly creamy on the inside. Then I'll also share with you a specific combination of flavors and ingredients I add to take the dish to the next level. I've been making these a bunch lately and they're my favorite.
As always, let me know if you have any questions and let me know if you try this!
Myles
The Technique
Whenever I'm roasting sweet potatoes or regular potatoes (this technique works for both) and have the time, I always par-cook them. Par-cooking is a technique where you partially cook a food one way, and then finish cooking it another way. And it's especially effective for potatoes and sweet potatoes.
The ideal roasted potato combines two things— a creamy, fully cooked interior and a crispy, golden-brown exterior. Often when you roast raw potatoes, you have to worry about the outside burning before the inside has a chance to cook through. With this method, we'll utilize a combination of two cooking techniques to avoid this and get a perfect combination of textures in the final product.
First, we'll simmer the potatoes until they're tender and cooked through. This gentle cooking method allows for even, full cooking all the way through to the center. Then, we'll roast them in a very hot oven in order to get the outsides to crisp up. We can use really high heat here and get a nice crunch, because the simmer has ensured that the interior of the potatoes is already cooked.
You can even perform the first step (simmering the potatoes until they're fork tender) and then store them in the fridge after that. This makes for easy meal prep since all you have to do is roast or fry the par-cooked potatoes to finish them.
Ingredients
2 sweet potatoes (I prefer the Japanese varietal)

olive oil

salt

Parmesan cheese

2-3 tbsp pickled jalapeños (fresh work too)

1/4 cup chopped or torn fresh herbs (I used parsley and mint)
The Process
Start by preheating your oven to 425°F.
Put the sweet potatoes into a pot, cover them with water, add a generous amount of salt, and then bring them to a boil.
As soon as they boil, turn down the heat and simmer them until they're fork-tender.
Fork tender means you can easily pierce through to the center with a fork without much resistance. They should be cooked through but not mushy.
Next, strain them and let them cool slightly.
Once they're cool enough to handle, peel off the skins.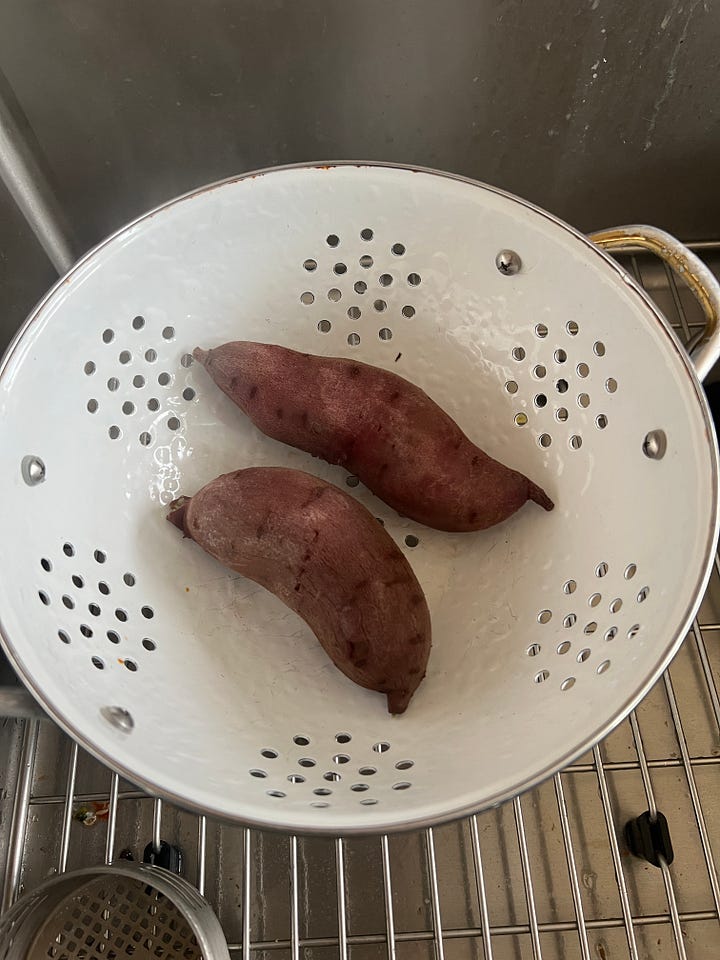 Dice up the potatoes and add them to a bowl.
Drizzle with olive oil, season with salt, and then toss them around in the bowl.
You want to give them a nice strong toss at this point. This "roughs up" the edges of the potato, which will create a nice crisp once it's in the oven.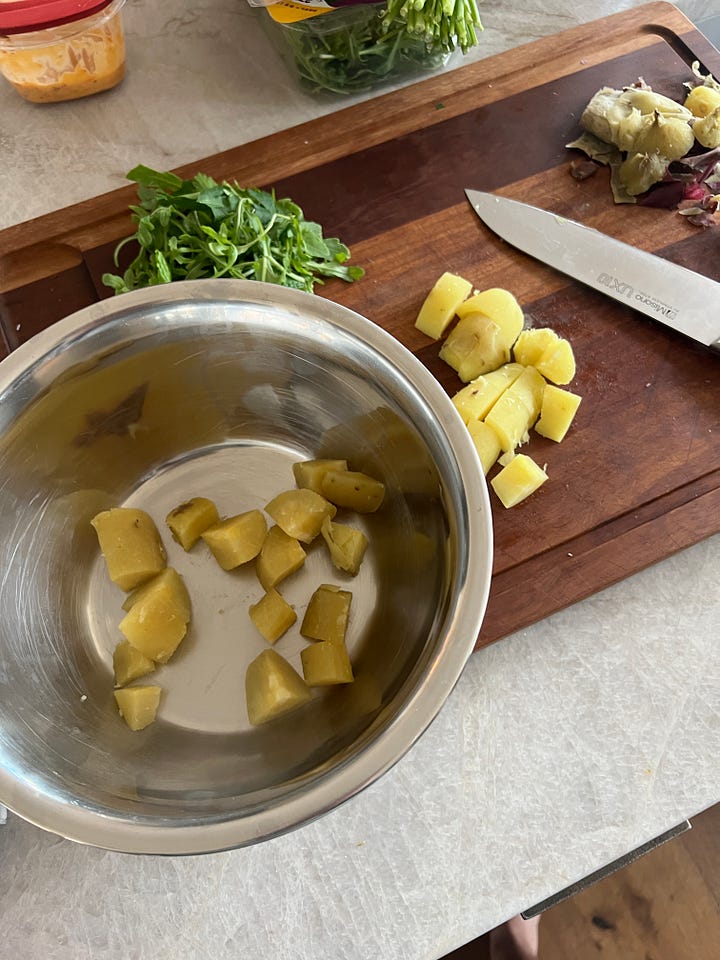 Lay them out on a sheet tray with plenty of room in between— do not crowd the tray or they won't crisp up!
Side note: This isn't necessary, but I'll often put the sheet tray in the oven for about 5 minutes prior to adding the potatoes. This means that you'll put the potatoes onto a hot sheet tray (you'll hear them sizzle immediately), which helps the bottoms to crisp.
Put them in the oven and cook, turning occasionally, until the outsides start to turn crispy and golden-brown.
Depending on the size of your potatoes, this can take anywhere from 5-20 minutes, so keep an eye on them.
When they're just starting to turn golden-brown on all sides, put them back into the bowl and shave a bunch of Parmesan cheese over them.
Toss them again to coat evenly with the cheese, and then put them back on the sheet tray and back into the oven. This gives the cheese a chance to crisp up a bit.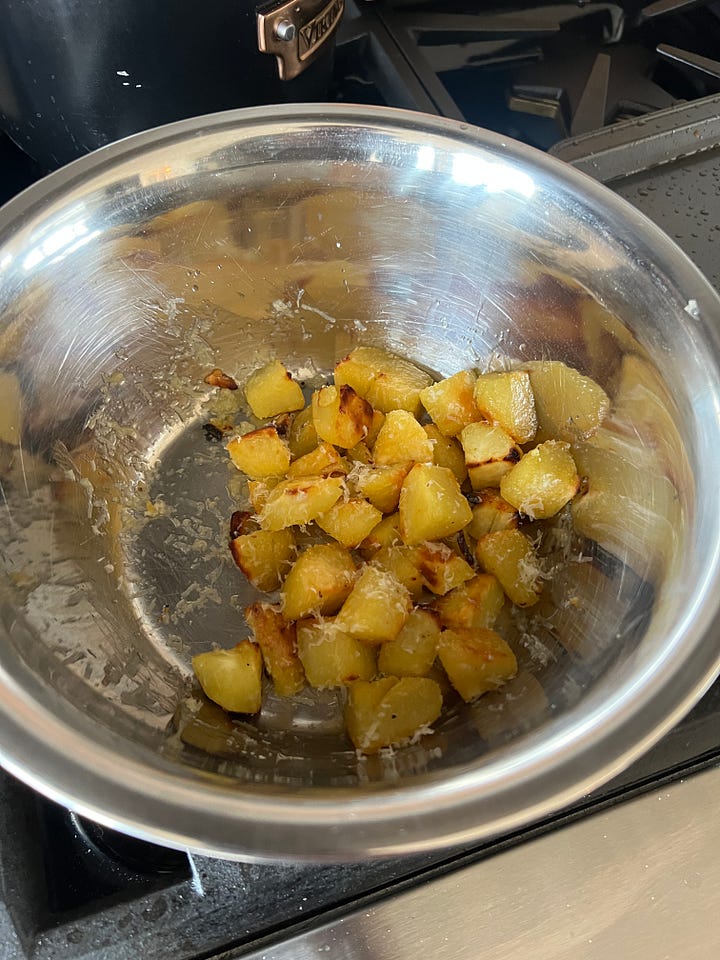 Cook for a few more minutes, and then pull them from the oven.
Toss the potatoes with some sliced pickled or fresh jalapeños and some fresh torn herbs (cilantro, parsley, mint, and dill all work great here). Finish with some more shaved Parm and serve.
Enjoy!