Discover more from Mother Tongue Cooking Club
A weekly newsletter to make you a better home cook.
Over 7,000 subscribers
Hey, everyone!
I got an influx of new people subscribed to the newsletter recently, so if that's you— welcome! The goal of this newsletter is to help you become a better home cook, and I do that a few ways— recipes, guides, technique breakdowns, and a monthly round-up email like this one with a collection of thoughts, product recommendations, book and podcast recs, and more.
Feel free to reach out if you have any questions or something resonates with you. I'd love to hear from you!
Myles
80/20 Cooking
This week we wrapped up the second cohort of 80/20 Cooking. I made quite a few improvements based on feedback from the first cohort, and I'm increasingly confident in the structure I've landed on— a combination of conceptual learning, live cooking demos, community platform, and kitchen assignments to put the material into practice. I was blown away by the level of particpation in this cohort and the things students were able to create based on what we learned.
I'm going back to the drawing board this month to collect feedback on this cohort and adjust the curriculum and structure for the next one. I already have a few concrete ideas for improvements that I'm super excited to implement.
If you'd like to get notified when enrollment goes live for the next cohort, you can do so by signing up here.
What I'm Reading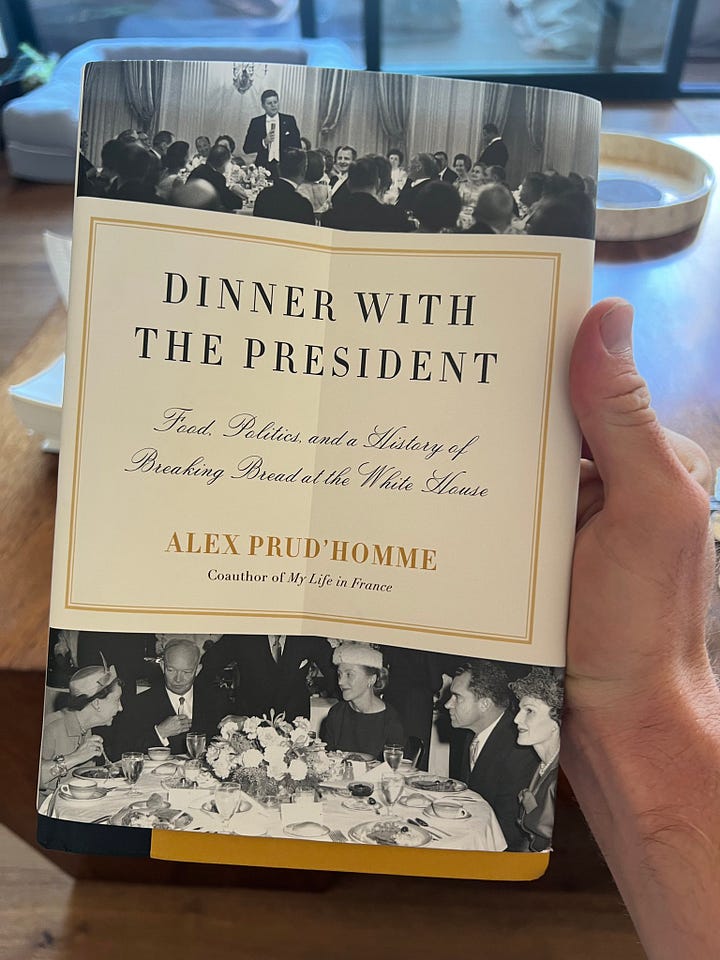 I dove into two food-related books recently that I really enjoyed.
The first is called Dinner with the President by Alex Prud'homme. It's a look at American history (dating all the way back to the founding of the country) via the lens of food. Not only do you learn about different presidents and their eating habits, but it also provides insight into how American food culture was shaped and some of the differnet food trends that have appeared throughout history. Really fascinating stuff.
I also recently picked up a copy of Cooked by Michael Pollan, and I'm hooked. I'm somewhat shocked its taken me so long to read this book, as I was a huge fan of his Netflix series of the same name. But thus far the book is even better. It's an exploration of cooking and human anthropology, and I can't think of a writer better poised to tackle the subject than Pollan.
Heritage Steel
In the August Round Up I talked about my deep love of stainless steel cookware and how I was exploring some different brands to see which ones I liked best.
I just got my hands on some pots and pans from Heritage Steel's new collaboration line with Eater, and I'm very impressed. I learned about Heritage Steel fairly recently, and I've been eager to try out their wares. They're a small, family-owned company that manufactures all of their own cookware in Clarksville, Tennessee.
Their latest line is a collaboration with Eater that's designed to be a bit more affordable than their Titanium series. I tried it out and really loved it— it's lightweight, ergonomic, and performs incredibly well. I love the ethos of the company— family owned, made in the USA, quality-focused— but even more important is that the performance of the cookware speaks for itself.
Omnivore Sicilia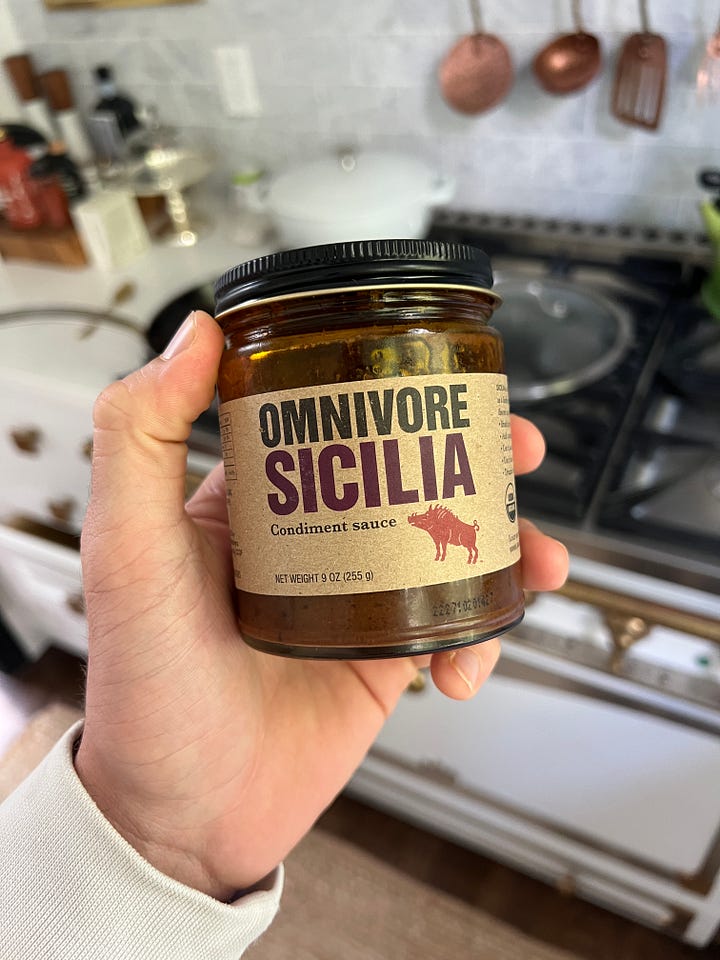 This stuff is crazy good. I found it at a specialty foods store in San Francisco, and I've been using it on everything. It's similar to a Mexican-style chile paste in terms of consistency and how it's used, but the flavors are super Italian and umami-rich.
A few ways I've tried it:
rub it all over a whole chicken before roasting

toss broccoli in it after roasting

brush it on steak as it's grilling

mix into mayo for a beautiful sandwich condiment
The Natural State Podcast
I got to hop on my friend Anthony Gustin's podcast a while back to talk about food philosophies, intuitive cooking, eating local, grounding, sunlight, and a bunch more. Anthony is a good friend, and this was a really fun conversation that went into some interesting territory I haven't covered much before.
Check out this episode, and if you're generally interested in exploring things around the cutting edge of health, you'll enjoy a lot of Anthony's other episodes. He consistently has on some really cool and thought-provoking guests.
A Simple Sauce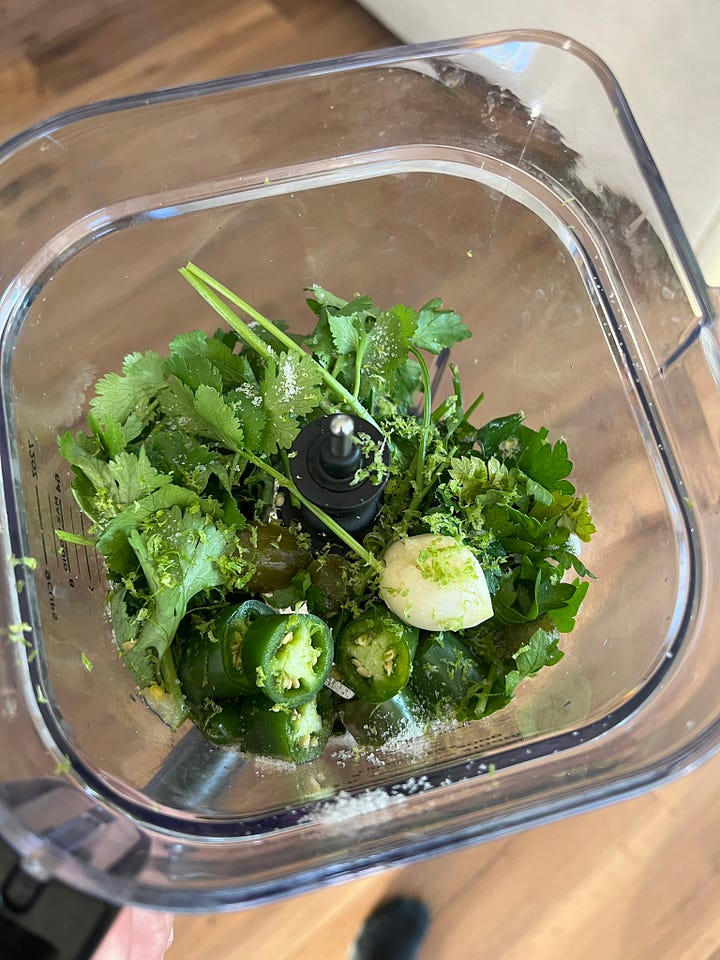 I whipped together this sauce on a whim the other day when making tacos, and it came out great. It's a really fresh, bright, and acidic sauce that pairs well with everything from roasted chicken to carne asada tacos, roasted vegetables, or just about anything savory.
1 bunch parsley

1 bunch cilantro

2 cloves of garlic

2 serrano peppers

zest + juice of 1 lime

salt

olive oil
Trim just the tough bottoms off the herbs. Add the herbs, garlic, peppers, lime, and a big pinch of salt to a blender. Add in about 1/4 cup of olive oil, and blend. Add more oil as needed as you blend to get a nice consistency like the one in the photo. Taste and adjust with more salt, lime juice, and olive oil.
Thanks for reading Mother Tongue Cooking Club! Subscribe for free to receive new posts and support my work.