Discover more from Mother Tongue Cooking Club
A weekly newsletter to make you a better home cook.
Over 7,000 subscribers
Kitchen Sink Soup
A customizable, delicious, and easy soup.
Hey, everyone!
Quick heads up— I'm going to be switching this newsletter from Substack to Beehiiv soon (and also introducing some fun new branding and design). I'll manually move everyone over, so nothing new is required on your end, but I'll send an update here on Substack once the new publication is live so you can make sure to find it in your inbox.
This week, we're making soup. Fall is here, it's starting to cool down, and I find myself craving a hearty broth. I started riffing on this recipe a couple of years ago, and it's one I return to often. It's simple, delicious, customizable, and functional. It's a great way to use up any leftover vegetables and meat you've got laying around, and it comes together quick enough to be a weeknight staple.
The formula here is simple– cook down some aromatics to build a base of flavor, sear some meat, add in some vegetables, cover in broth, and allow everything to cook through. On top of this basic formula we're going to layer in some additional deliciousness and complexity– chile paste for heat and flavor, a splash of fish sauce (or soy sauce) for more umami, and a bit of sherry vinegar for acidity. That combination really elevates this soup into something special.
The Ingredients
Because this dish is fully customizable, you can use nearly any type of meat or vegetable. Here's what I used:
1 small sweet potato, cubed

1 large shallot, sliced

3 cloves of garlic, peeled and sliced

1 head of baby broccoli, chopped up

3 small carrots, sliced

1/4 pound ground pork

2 cups beef bone broth

3 tbsp chipotle chile paste

1 tsp fish sauce

1 tbsp sherry vinegar

parsley

salt
Bone Broth
The broth is the backbone of this recipe, so make sure you get a great broth. If you've already mastered the art of making bone broth at home, definitely use your own here! You can also find lots of great homemade broths at your local butcher or farmer's market. For store-bought options, I like FOND, Kettle & Fire, and Brodo.
Aromatics
Aromatics allow us to build a base of flavor onto which we can layer the rest of the soup. I always use some form of onion– white, yellow, red, shallots, leeks, etc– as well as a bit of chopped garlic. Ginger, scallions, finely diced carrots, celery, and fresh peppers are all great options, as well.
Meat and Vegetables
You can use almost any type of meat in this dish. Ground beef, pork, or lamb all work. You could dice up chicken or steak, and sausage would make a great addition. Or, you can even go meatless– the broth alone has enough heartiness to carry the dish.
For vegetables, use whatever you've got! I love to do a mix of something starchy (potatoes, sweet potatoes, etc) with some hearty greens (broccoli, kale, etc).
Flavor Enhancers
We can take this soup from good to great by adding in some additional flavor in the form of heat, umami, and acidity.
For heat and additional flavor, I like to add in a few tablespoons of chile paste. I like to keep a jar of Frontera Chipotle Adobo on deck, and you could easily use the sauce from a jar of chipotle chiles in adobo. Depending on what flavor profile you're going for, gochujang, harissa, and curry paste could all work well.
For some additional umami, we're going to spike the broth with some fish sauce. If fish sauce isn't yet a part of your pantry, it's time to change that. Fish sauce has a very intense flavor on its own, but in small amounts it does an amazing job of blending into the background and giving a delicious savory boost to soups. You could use soy sauce or coconut aminos to achieve something similar, but nothing quite compares to fish sauce.
Finally, we're going to add in some vinegar for acidity and balance. Good bone broth is hearty and full of collagen goodness– vinegar does a great job of cutting through that and acting as a seasoning to bring out the best flavors. I love sherry vinegar, but any good wine vinegar or rice vinegar will work. If you don't have vinegar on hand, lemon or lime juice will do the trick.
I like to add in a bit towards the end of the cooking process, which allows it to work its way into the soup and balance out the flavors. I'll also add a splash over the soup just before serving.
Step 1: Cook Down Your Aromatics
Place a pot over medium heat and allow it to warm up. Add in a big glug of olive oil, and then add in your shallots or onions.
Add a bit of salt, and cook them until they're translucent. I always add my garlic in just towards the end, as it'll burn before the shallots cook.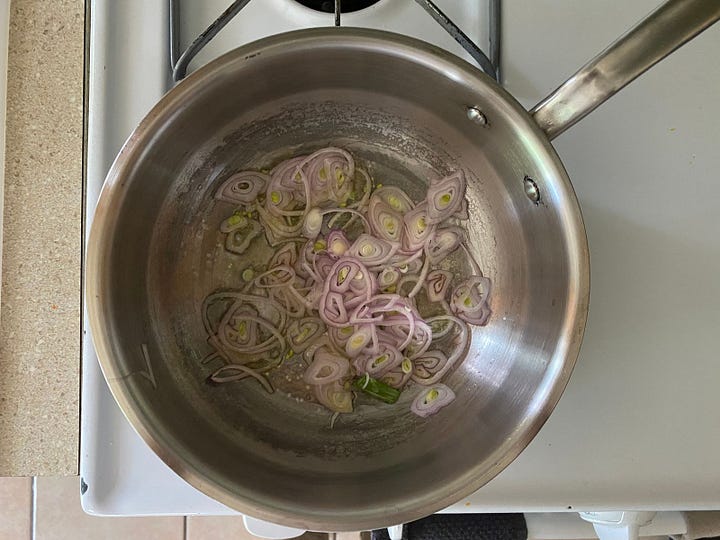 Step 2: Sear Your Meat
At this point, can remove the aromatics from the pot and set them aside to sear your meat.
Or if you're feeling lazy like me, you can just move the garlic and onions towards the outer edge of the pot, creating space in the middle for you to sear. I like to turn up the heat to high for this step.
Add in the meat, and use a wooden spoon to chop it up. Season it well with salt, and allow it to lightly brown all over. Once the meat is browned, you can turn the heat back down to medium.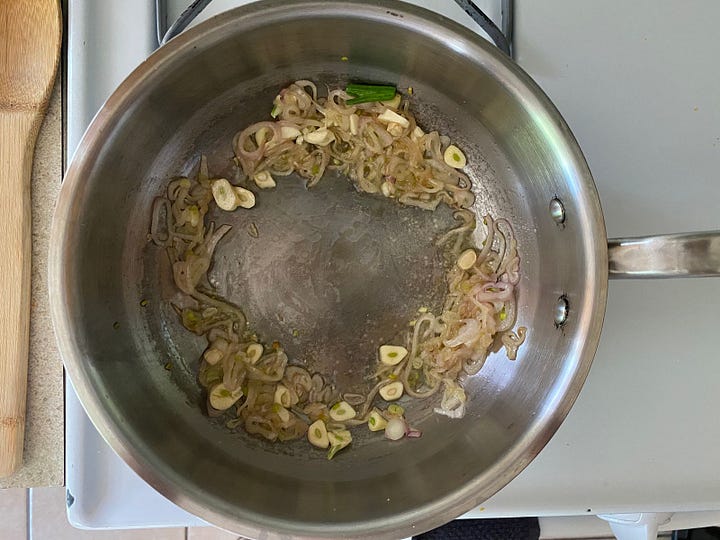 Step 3: Add the Chile Paste
Add in a couple of tablespoons of chipotle adobo, and stir to coat. The onions and meat will soak up chile paste, creating a really nice flavor.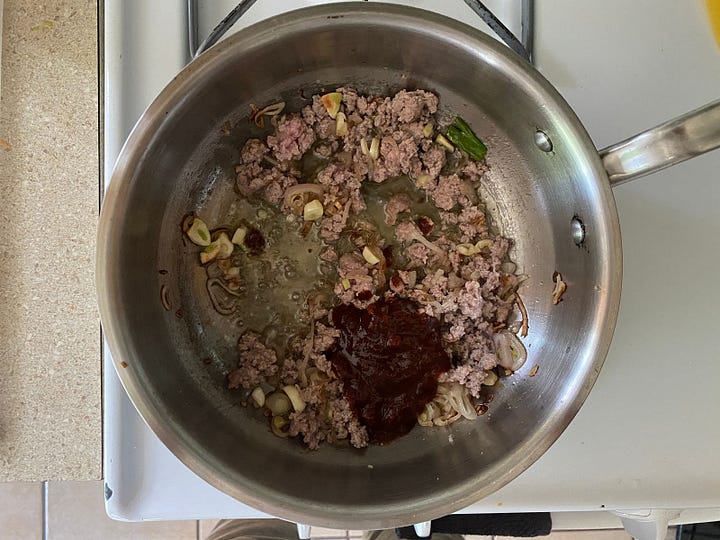 Step 4: Add Vegetables and Broth
Next, you want to add in all of your chopped vegetables.
Give everything a stir, season generously with salt, and then add enough bone broth to cover.
Allow the soup to come to a gentle simmer. It should cook for about 15-20 min total to allow everything to cook through. You can continue to cook it at a very gentle simmer for longer– the flavors will continue to develop and meld.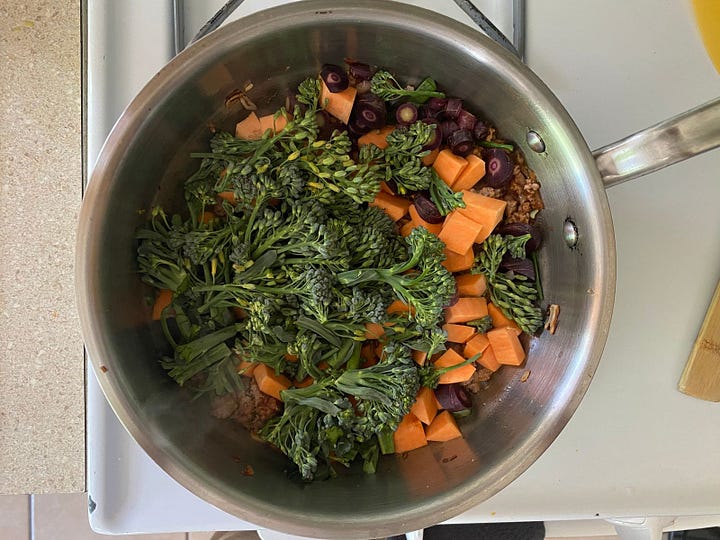 Step 5: Add in Fish Sauce and Vinegar
After about 10 min, add in a teaspoon or so of fish sauce (or soy sauce or coconut aminos). Stir everything together, and allow it to permeate throughout the broth.
About 5 min before you finish cooking, add in a few tablespoons of sherry vinegar and stir everything to combine.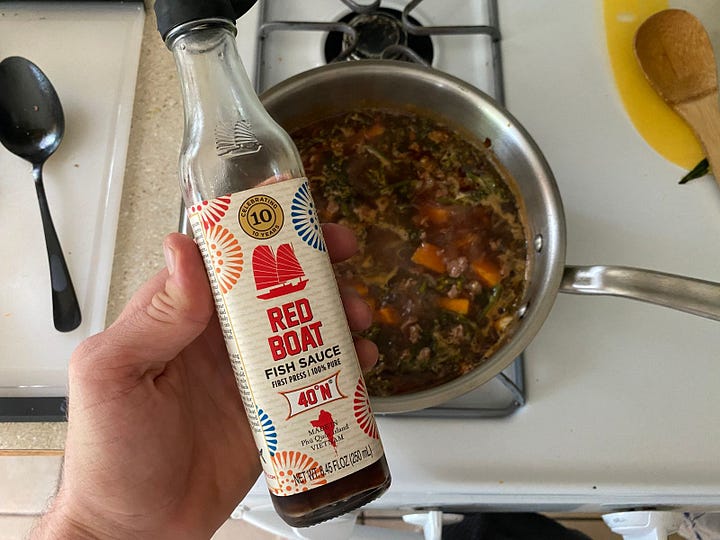 Step 6: Plate and Serve
After 20 min of a gentle simmer, take the soup off the heat.
Ladle everything into bowls. Top it with a small splash of sherry vinegar (or a squeeze of lime juice) and some chopped herbs.
Serve it with a big hunk of toasted sourdough. Enjoy!