Discover more from Mother Tongue Cooking Club
A weekly newsletter to make you a better home cook.
Over 7,000 subscribers
Hey, everyone!
Today I'm going to show you how to make the most incredible mayonnaise at home.
If you haven't yet made your own mayo, you're missing out. It's actually quite easy to do, and the store-bought stuff just doesn't compare.
I used to make mayo at home using a food processor or an immersion blender, but I was never able to make it with olive oil since it tasted too bitter. Recently I came across an article that claimed the bitterness could be avoided if you whisked the mayo by hand. Here's what it said:
When olive oil is broken into droplets in an emulsion, the polyphenols get squeezed out and will disperse in any liquid in the mix, so that their flavor becomes evident. The blades of a food processor break olive oil into much smaller droplets than those created from whisking. The smaller the droplets, the more polyphenols that break free and disperse, and the more bitter an emulsion will taste.
I tested the theory out myself, and it turned out to be true!
This was great, because I actually prefer an olive oil mayo. I'm not a big fan of neutral oils in general (especially industrial seed oils), and studies continue to show widespread rancidity and adulteration in the avocado oil space. I also think that olive oil mayo just tastes better.
And the truth is that making mayo by hand is super easy— it comes together in less than 5 minutes with just a little bit of whisking. It's a technique worth knowing, and the results are worth it.
Ingredients
1 egg yolk

1/2 - 1 cup olive oil

1 tsp dijon mustard

1 tbsp lemon juice or white wine vinegar

salt
This works best if your olive oil has a pour spout that allows you to slowly drip in the oil. I use a bottle with a pour spout from Zimms Organics that works great, or you can get one of these badass oil cruets. If you don't have that available, use your thumb to slow the drizzle of oil into the bowl as you whisk.
Because you're using raw eggs here, you should buy the highest-quality pastured eggs you can find. An egg that's allowed to come up to room temp will emulsify slightly better, but I've been able to do this with eggs straight from the fridge without a problem.
Finally, one egg yolk can usually hold together up to a whole cup of oil. If you plan to use more than that to make a big batch of this stuff, start with two yolks.
Process
You need to whisk pretty hard in order to get the mix to emulsify, so you'll need a stable bowl. You can create a little nest with a dish towel (it's even steadier if the dish towel is damp). Or you can just have someone else hold the bowl as you drizzle and whisk.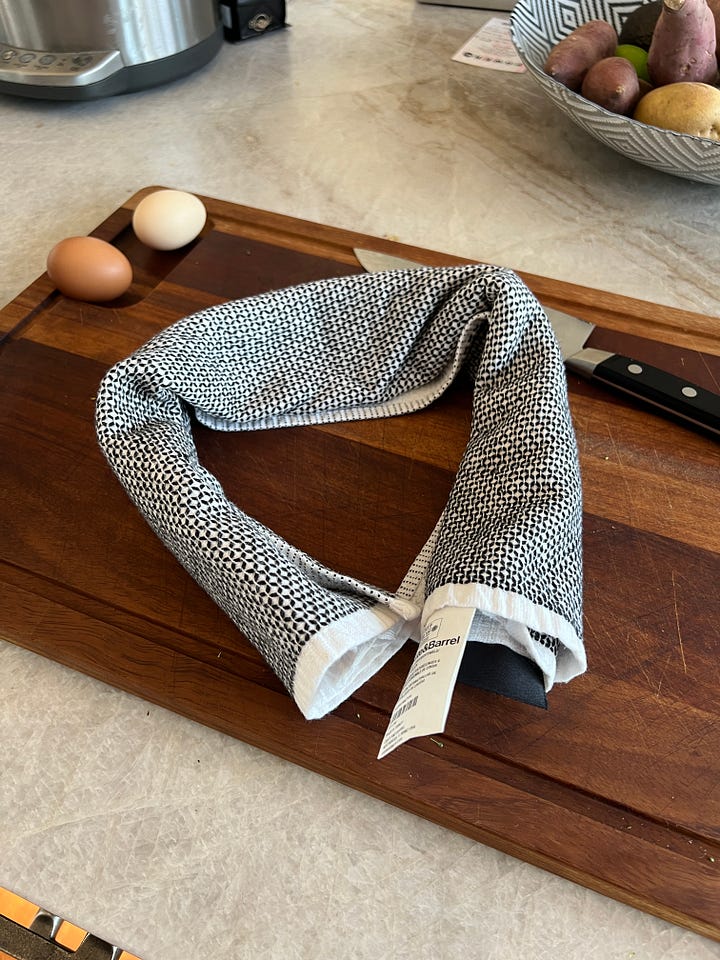 Separate out 1 egg yolk from a whole egg. Add just the yolk to your bowl.
Add in the mustard, lemon juice, and salt, and whisk to combine.
Start whisking, and then slowly start drizzling in the olive oil.
You should maintain a slow, steady stream, whisking the whole time.
The process looks like this:
As you drizzle the oil in, the mayo should start to come together.
There's no correct amount of oil here— you should add enough to get a thick, creamy consistency that holds its peaks, like the one below.
Once you're there, taste the mayo and then whisk in more salt or vinegar until it tastes balanced.
At this point the mayo is complete. It's great on its own and will store in an airtight container in the fridge for at least several weeks.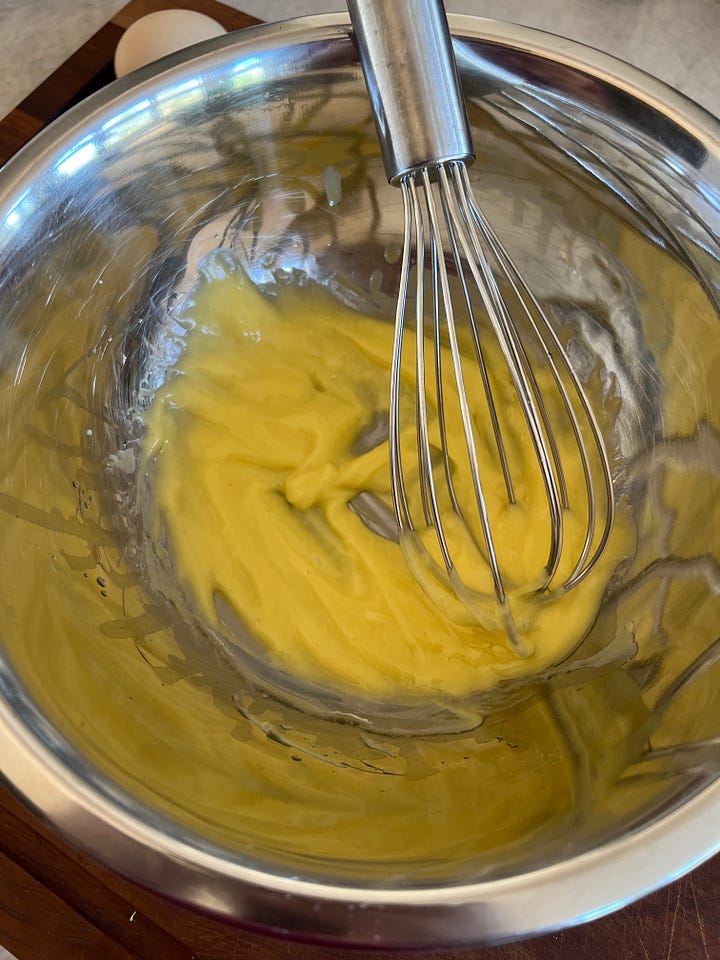 I also love using this as a base to build other sauces and dips.
Yesterday I added a heaping tbsp of chopped Calabrian chiles and some lemon zest. It was incredible. It's also great mixed with hot sauce, various chile pastes, chopped fresh herbs, and a bunch more.
Enjoy!